InSCOPE is an EU H2020 funded project that aims to set up an open access pilot line service for Hybrid TOLAE (H-TOLAE) technologies in the automotive, healthcare, smart packaging and building sectors.
Users
The main direct beneficiaries of the InSCOPE open access pilot line are SMEs which already have a (hybrid) printed electronics demonstrator but do not have the necessary manufacturing capacity to transform the existing demonstrator into production prototype for volume manufacturing.

Typical request of SMEs which qualify for InSCOPE pilot line support are:
I would like to produce samples on large quantity and at good quality

I have a product demo and want to do clinical trials

I want to show the potential of my products to a large set of potential customers

I have a large product

I want to validate "state of the art" production methods

I want to validate technology close to implementation.
Services
Three types of services are available by the InSCOPE pilot line:
1. OPTIMAL PRODUCT DESIGN AND PRODUCTION PROCESS CHOICE 
Users of the pilot line can transform their existing (hybrid) Printed electronics demonstrator into a production prototypes ready for volume manufacturing.
2. BENCHMARK PRODUCTION PROCESS ON SOTA 

EQUIPMENT
The InSCOPE consortium provides an overview and test the available production process that are state of the art in printed electronics. Proposals for optimal production within InSCOPE pilot line is offered to our customers.
3. MAKES RELIABLE PRODUCTS IN LARGE NUMBER FOR EVALUATION
End-users of the pilot line service will eventually require sampling at industrial relevant scale. InSCOPE samplings are reliable and non-fault to pass such tests.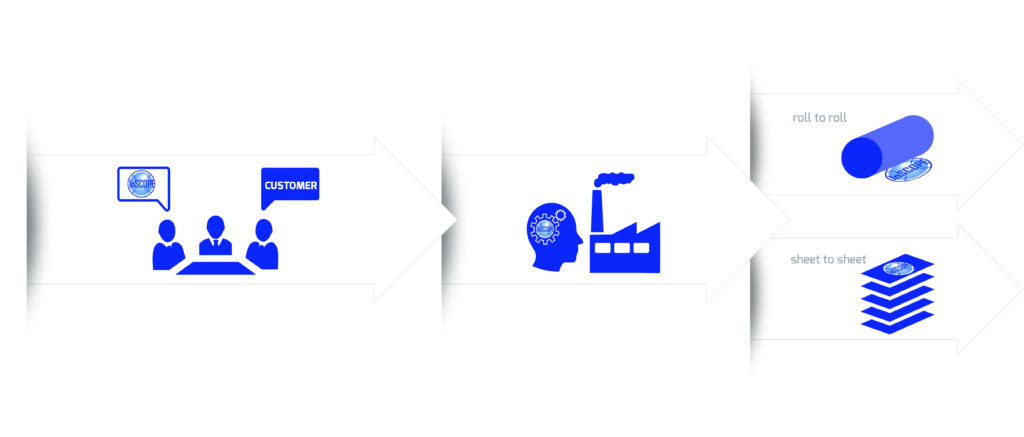 The InSCOPE Pilot line is made up of three primary units: printing, component assembly and post –processing which are which are complemented by design / support for required driving electronics of a given functionality.

Benefits
INSCOPE PILOT LINE WILL HELP YOU REDESIGN YOUR EXISTING PRODUCTS WITH NEW FEATURES AND / OR REDUCE PRODUCT COSTS OR FORM FACTOR TAKING ADVANTAGE OF HYBRID TOLAE POSSIBILITIES.
The advantages of hybrid TOLAE, owing to the printed and foil based aspect, are its flexibility and cost effective production method over large area. In addition it provides an excellent base for realizing new types of large area substrates that may even be shaped into three-dimensional products. The hybrid integration step of the H-TOLAE manufacturing process enables:
SMART FEATURES,

SIMPLE CIRCUIT

STATE-OF-THE-ART PERFORMANCE.
Early adopters of new technologies will progress significantly faster on the product development, by having functional prototypes ready for customer satisfaction or reliability testing and for faster innovation cycles before the actual large volume production.
Sectors
The printed electronics technology is especially suited for market sectors that require high standards and quality products:
Combined with unique (smart) functionalities

Flexibility and even stretchability

Available on large areas/quantities
Examples of target sectors:
Automotive

Health

Smart packaging

Smart building sectors

Textile

How
Contact our project coordinator to learn more and discuss your possibilities with the InSCOPE pilot line
Corne Rentrop
TNO – HOLST CENTRE
Eindhoven, Netherlands
Email: corne.rentrop@tno.nl