Approaches to smart packaging
The second InSCOPE workshop "Embracing Opportunities in Smart Packaging" was held at CPI premises, Darlington, the UK on 26th September 2018. The event featured a series of presentations from industry experts in hybrid and embedded printable electronics, discussions, networking and a tour of CPI's newly expanded printable electronics scale-up facility. InSCOPE presented their findings and opportunities of a pilot line service to advance the accuracy and reliability for hybrid printable electronics and discuss the pharma approach to smart packaging. There were a number of drivers discussed, which included: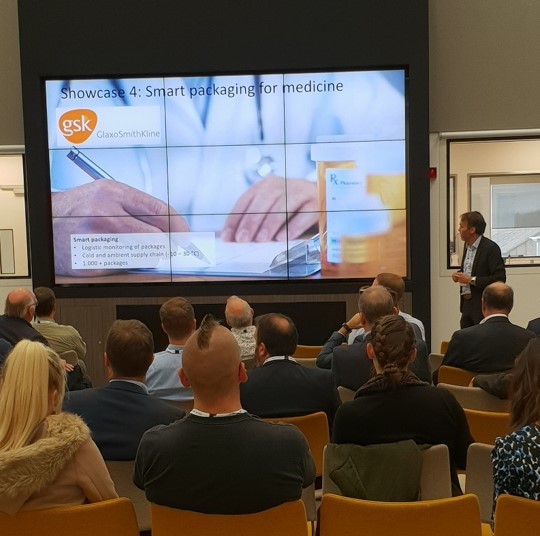 Diabetes – there's a significant rise in the number of people with type 1 and type 2 diabetes that need constant support in order to manage their conditions. This is an opportunity for lightweight wearables/tags and sensing systems. There are opportunities for development of smart wearable (potentially transdermal) patches that can

Measure levels of glucose or other biomarkers in sweat/blood
Measure levels of Active Pharmaceutical Ingredient (API – potentially insulin) in the patch
Deliver medication/API to the body as part of a feedback loop

Poor patient adherence/compliance – the UK's National Health Service (NHS) estimates that long term adherence to medication is as low as 50%. There's a significant opportunity for smart packaging solutions to support an improvement in this.
Crowded market for direct mail – there is currently no way to understand if a direct-to-home mailing has been opened/read. Interacting with a smartphone could give usage statistics or lights or 'bling' could make the mailing look more attractive and increase customer interaction probabilities. Note that cost/price of the electronics needs to be low here, although there is a discussion to be had on price versus value to the customer carrying out the mailing. The ELEP envelope case was specifically discussed.
End of life/sustainability – there's a Worldwide drive to reduce waste, including plastics. This presents opportunities for re-use of packaging and using electronics to identify materials as they go into waste streams, this could enhance recyclability.
In order to realise smart packaging and printable electronic solutions InSCOPE has a significant capability set (seen by workshop participants on the 26th September 2018) ranging from:
Test and validation of printed electronic materials – this includes inks (for sensing, conductivity, antennas etc), adhesives, active substrates etc.
Process design, development scale up and test of printed electronic components – including antennas, sensors, communication etc
Product and process design, development scale up and test of flexible hybrid electronic sub-systems and devices – such as smart packaging, smart tags, labels, wearables etc
The InSCOPE project is particularly keen to talk to organisations interested in the development of smart packaging in order to support process and device development as well as scaling up to market seeding volumes.